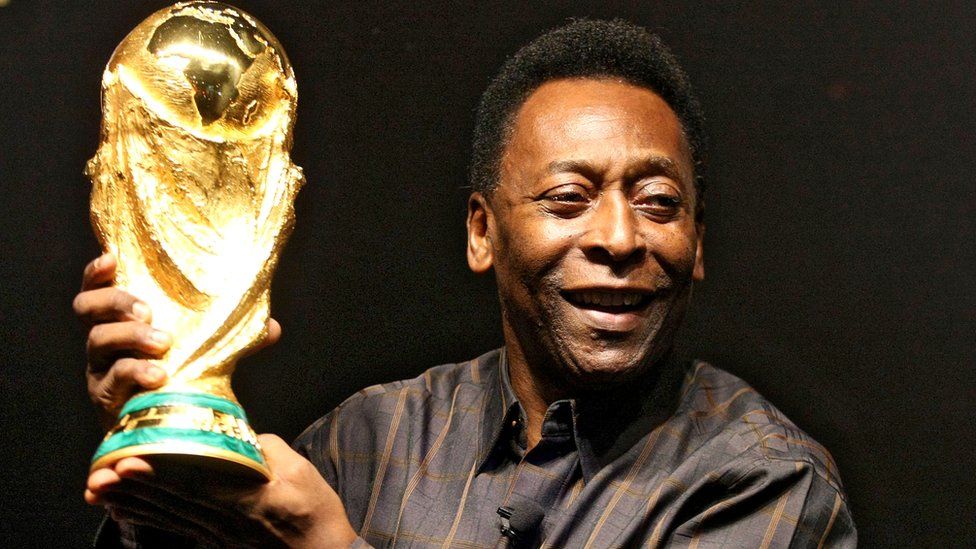 Maradona, Messi, Neymar, and many more top football players wear the number 10 jersey. However the man who wore it first was none other than Pele and it was bey chance. As the legend himself has said, "The number 10 jersey was given to me at a world cup match in 1958. Nobody thought it was important to wear the No.10 and it coincidentally dropped to me to wear at the world cup".
Pele went on to always wear it, and will always inspire players to wear the Number 10 jersey with pride.
Let us recollect 10 trivia about this legend, who will be in the all time top 3 list of all, and may be the number 1 in the 3 of most.
Born on 23rd October, 1940, Pele's real name is Edson Arantes do Nasimento. He himself did not like the name Pele at first since he was proud that he had been named after Thomas Edison and wanted to be called Edison. He initially thought the name Pele sounded horrible. How he came to be called Pele is interesting. His family's nickname for him was Dico or Gasolina. He idolized his father's football goalkeeper friend Bile and as a child used to say that "when I grow up, I want to be a goalie like Pile". He innocently distorted Bile as Pile, and it became Pele and the name Pele stuck-for him.
As a child, Pele was poor. He worked as a shoeshine boy and he scavenged through scrap. He also worked in tea shops as a staff boy. His 1st football boots were bought by money from roasting and selling peanuts stolen from goods trains parked at the railway station.
When Pele was nine, he saw his father cry after Brazil lost the 1950 world cup final to Uruguay. The little boy told his father, "I will win the world cup for you". He did, thrice.
Pele's 1st international match was against fellow football superpower Argentina. It was a 1-2 defat for Brazil, and he was the goal scorer. He was just 16 years 9 months and he became the youngest goal scorer for Brazil. Today, 65 years later, he still remains the youngest to score a goal for Brazil.
Pele was not chosen for the 1st two matches of the 1958 world cup. Neither did Garrincha. One of the main reasons for their omission was the adverse report of the team psychologist who had sated that Pele was "infantile and lacked fighting spirit", while Garrincha was plain irresponsible. The coach disregarded the views for the 3rd match versus USSR and Brazil won the match, with Pele becoming the youngest player ever to play the world cup, and in this match he provided an assist for Vava's second goal.
In the Semi-finals of the 1958 World Cup, Pele scored a hattrick, becoming the youngest player to do so at the World Cup. His goal in the 1958 Final is regarded as one of the best goals ever in the World Cup. He scored two goals in the final and after Brazil won the match, he passed out in happiness, and was revived by Garrincha. After he recovered, he wept inconsolably in happiness.
Pele once stopped a war. Between 1967 and 1970, more than a million died in the civil war in Nigeria between the Nigerian Government and the secessionist state of Biafra. In 1969, there was a football match between Santos and the Nigerian Super Eagles (which was a 2-2 draw), and a 48 hour ceasefire was declared so that all could watch Pele peacefully.
European Football Clubs have always tried to identify the best football players across the world and sign them up. Manchester United, Juventus, Real Madrid, and Inter Milan were some of the clubs who were keen to sign up Pele. In an extraordinary gesture the Government of Brazil declared him a 'National Treasure" in 1961 so that he would not be transferred out of Brazil. Pele was just 21 at that time.
"The Beautiful Game" is a phrase not just popularized by Pele but making it synonymous with football. His autobiography too was named, "My life and the beautiful game."
America calls football soccer. It is not a popular sport there but Pele was a nationwide sensation. Even the President of America took his autograph on a football. In his last match, which was for Cosmos, Pele scored a goal and ended his career with a goal. This match was watched by Mohd. Ali and Bobby Moore. When the match was coming to an end it started to rain, and newspapers came out with headlines, "Even the Gods were crying."
Pele, we will always have you in our hearts. It is players like you who have majorly helped to make the beautiful game beautiful.