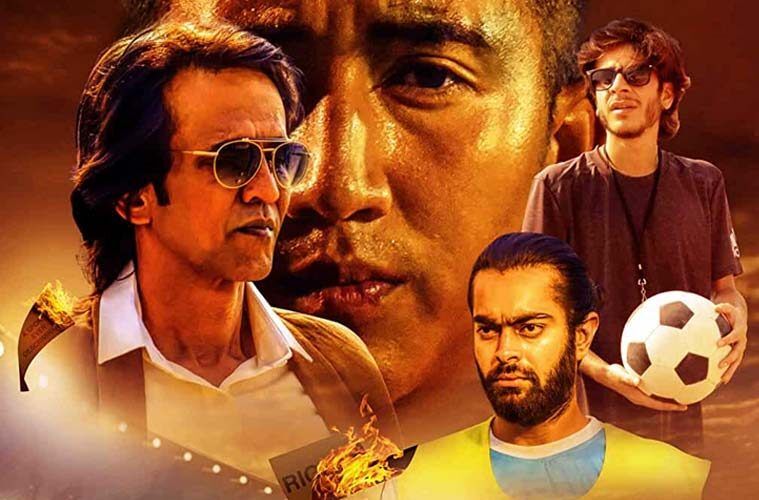 In recent times I do not remember any movie which has got such bad reviews as Penalty has. It has been called a terrible football film with no sense of craft or politics and it has been termed culturally awry as well.
The 2019 movie was streamed by Netflix a few days back. It was mostly panned by the critics. I however mostly disagree with the reviews. I liked the movie and I found it realistic and truthful.
Penalty is written and directed by Shubham Singh. He was earlier assistant director for Bhaag Milkha Bhaag, Son of Sardaar and Mere brother ki dulhan. Penalty stars Lukram Smil as a young Manipuri student who comes to Lucknow to carve out a future for himself as a professional football player. He wants to play for India and realizes that with Lucknow being the football powerhouse and a Lucknow based University, SRMU being University champions 18 years in a row, his best chances of playing football at higher level is by first playing for SRMU.
However, Lukram faces racial profiling and discrimination. His playing skills are overlooked and sadly the injustice is encouraged by none other than the dictatorial chief coach/manager, played by Kay Kay Menon. The manager goes to the extent of interfering with selection matters and dominating them to ensure that "insiders' are in the team and "outsiders' are excluded/not selected. Kay Kay's assistant coach is Shashank Arora, whom we have earlier seen in Manto as well as Made in heaven. Shashank tries to do justice to talent through proper selection but is not allowed to. Kay Kay even sells him guilt by hinting that non-selection of deserving players had resulted in his selection as well and seeks to continue ruthless implementation of his insider-outsider theory with him as successor.
The travails of Lukram are many. He is called "C" for his looks and is physically assaulted when he says, "Don't use that word". He also survives an organized and planned physical attack which could potentially have given him career-ending and life threatening injuries. Lukram even thinks about giving everything up and returns to Manipur but decides to come back and pursue his dream. He is assisted by a friendly Sardar roommate Ishwar, beautifully played by Manjot Singh, who we have seen in Oye Lucky Lucky Oye, Student of the year, Udaan and Fukrey . Lukram and Ishwar are great friends. Midway he feels that he has been betrayed but later he realizes that the Sardar has a heart of gold.
What I liked most about Penalty was Kay Kay's portrayal of a ruthless football Manager. He has done it effortlessly. I also liked the concept of crowd-funding being shown in a dignified manner. The underprivileged do have less opportunities, but if required , unknown strangers will rise to the occasion and bail them out. Well done, Mr Director for touching upon this aspect. It was also a nice touch to have a Sardar stand up against discrimination and racial profiling, since they too face it, which however has not been shown in this movie.
Penalty could have improved in some areas. Kay Kay's Xenophobia is unnecessarily sought to be explained towards the end by him playing the victim card to explain his behaviour and life long mission of keeping out "outsisers". Lukram's acting needed improvement since his is the most important role. The football scenes should have been better since it is a football movie. Lukram's love interest angle was totally unnecessary and did not need inclusion.
Overall, Penalty is a good movie about football, about prejudices, and with excellent acting by Manjot Singh, Shashank Arora and of course the evergreen Kay Kay Menon.
Pics credit; BookMyShow.